OVERVIEW
SiGN-SSM is open source gene network estimation software able to run in parallel on PCs and massively parallel supercomputers. The software estimates a state space model (SSM), that is a statistical dynamic model suitable for analyzing short time and/or replicated time series gene expression profiles. SiGN-SSM implements a novel parameter constraint effective to stabilize the estimated models. Also, by using a supercomputer, it is able to determine the gene network structure by the statistical permutation test in a practical time. SiGN-SSM is applicable not only to analyzing temporal regulatory dependencies between genes, but also to extracting the differentially regulated genes from time series expression profiles.
SiGN-SSM is distributed under GNU AFFERO GENERAL PUBLIC LICENCE (GNU AGPL) version 3. The pre-compile binaries for Linux (x86-64), MS Windows, and Mac OS X are also available in addition to the source code. The pre-installed binaries are available on the Human Genome Center (HGC) supercomputer system [6] and the Japanese flagship supercomputer "K computer&quot (available in 2012) [7]. Some functions including statistical permutation test are available only on these supercomputers.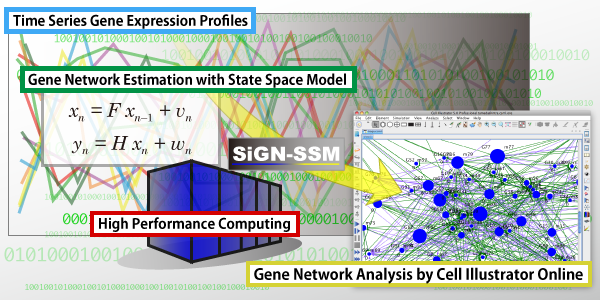 NEWS
Jun. 20, 2011: I noticed that signssm_plot.sh was not included in the package. So I uploaded it separately on the download page.
Feb. 23, 2011: Rel. 1.0.2 released. Fixed a bug in the estimation algorithm.
Feb. 8, 2011: SiGN-SSM paper [1] has been accepted for publication in journal Bioinformatics as an application note paper.
Jan. 21, 2011: Rel. 1.0.1 released and HOW TO USE page is updated.
Dec. 1, 2010: Web site open!
FEATURES
SiGN-SSM ...
Estimates a state space model from time series (time course) data.
Is an open source program so that everyone can access to the source code, and is free to improve it, develop for your own code, and distribute it. Read the license carefully.
Is suitable for short time series data measured for irregular time points.
Can handle multiple replicate data and missing values appropriately.
Runs in parallel with multi-thread on multi-core CPUs, multi-process on MPI, Sun (Oracle) Grid Engine, PC clusters, etc.
Implements a new constraint on the system coefficient matrix that is effective to stabilize the estimated parameters.
Implements permutation test that extracts the statistically significant gene-to-gene relationships (gene network edges), in addition to the estimation of model parameters.
Implements statistical test to evaluate the prediction by the estimated models.
Is high-scalable to the number of CPUs in the massively parallel computers with MPI.
Is able to output the estimated gene networks in CSML format so that users can analyze them with Cell Illustrator Online.
CONTENTS
PUBLICATION
The main paper describing SiGN-SSM is Tamada et al. (2011) [1] in REFERENCE below. Please cite this if you want to refer to SiGN-SSM in your publication, etc. The mathematical details are described in Hirose et al. (2008) [2] and Yamaguchi et al. (2008) [3].
ACKNOWLEDGEMENTS
SiGN-SSM is developed in the ISLiM (Next-generation integrated simulation of living matter) project in RIKEN Computational Science Research Program [5]. This is based on the previous implementation TRANS-MNET [2]. Computational resources required for the development of SiGN-SSM was provided by the HGC Supercomputer System, Human Genome Center, Institute of Medical Science, The University of Tokyo; and RIKEN Supercomputer system RICC.
REFERENCE
[1] Tamada, Y., Yamaguchi, R., Imoto, S., Hirose, O., Yoshida, R., Nagasaki, M., and Miyano, S. (2011). SiGN-SSM: open source parallel software for estimating gene networks with state space models. Bioinformatics 27 (8), 1172-1173.
[2] Hirose, O., Yoshida, R., Imoto, S., Yamaguchi, R., Higuchi, T., Charnock-Jones, D.S., Print, C., and Miyano, S. (2008). Statistical inference of transcriptional module-based gene enetworks from time course gene expression profiles by using state space models. Bioinformatics 24 (7), 932-942.
[3] Yamaguchi, R., Imoto, S., Yamauchi, M., Nagasaki, M., Yoshida, R., Shimamura, T., Hatanaka, Y., Ueno, K., Higuchi T., Gotoh, N., and Miyano, S. (2008). Predicting differences in gene regulatory systems by state space models. Genome Informatics 21, 101-113.
[4] Wu, L.S.-Y., Pai, J.S, and Hosking J.R.M. (1996). An algorithm for estimating parameters of state-space models. Statistics & Probability Letters 28, 99-106.
[5] LINK: RIKEN Computational Science Research Program
[6] LINK: HGC Supercomputer System
[7] LINK: RIKEN AICS "K computer&quot